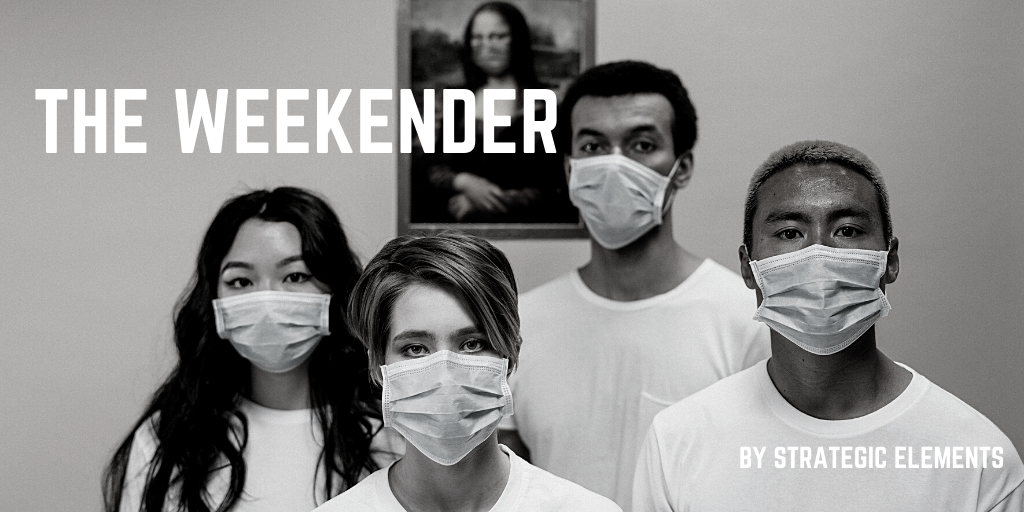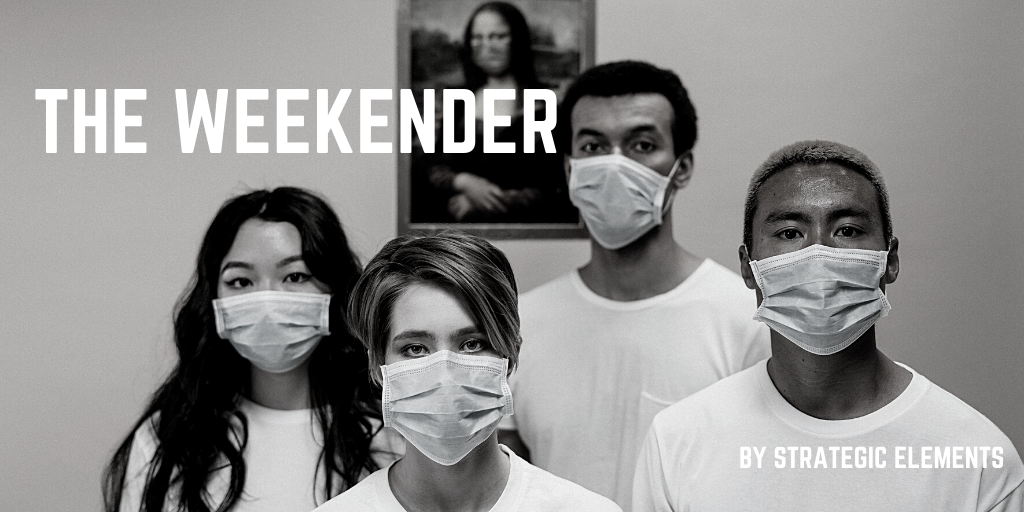 THE WEEKENDER
Subscribe today
Big reads and big ideas shaping public policy, consumer trends, and cultural innovation.
June 26, 2020
Curation and commentary from the Team @ Strategic Elements
THE BIG FIVE
Why sharing good news matters: Research shows us that even in normal times, constant exposure to negative news can have a heavy impact on our mental health. In the midst of an unprecedented health and humanitarian crisis like the COVID-19 pandemic, people are not only faced with new challenges in their work and personal lives but also subjected to a constant barrage of troubling headlines. MIT SMR
The results showed that employees who had received good news were 18% more optimistic than the control group of employees who were not given the experimental nudge.
Post-pandemic economic leadership begins in America: No matter how big an economy is, it is heavily influenced by US economic growth, financial stability, and policy spillovers. With the COVID-19 crisis, the evolution of the global economic-policy paradigm has become an urgent matter, and the rest of the world must not suffer the consequences of a US that does too little, too late. Mohamed A. El-Erian – Project Syndicate
"Other countries should not underestimate the importance of such changes for their own economic performance. No matter how big an economy is, it is likely to be influenced by US economic growth, international financial stability, and monetary policy spillovers."
The 2020 CNBC Disruptor 50 companies: Many of these companies have an existing focus on health care, financial services, cloud connectivity, digital marketing, and online distribution to consumers, and they have seen demand for their core products and services more than double during the economic shutdown. CNBC
Top 10:

Stripe
Coupang
Indigo Agriculture
Coursera
Klarna
Tempus
Zipline
SoFi
Neteera
Gojek
First American woman to walk in space reaches deepest spot in the ocean: On June 7, Kathy Sullivan, 68, an astronaut and oceanographer, emerged from her 35,810-foot dive to the Challenger Deep, according to EYOS Expeditions, a company coordinating the logistics of the mission. The dive made Dr. Sullivan the first person to both walk in space and to descend to the deepest point in the ocean. The Challenger Deep is the lowest of the many seabed recesses that crisscross the globe. New York Times
"As a hybrid oceanographer and astronaut this was an extraordinary day, a once in a lifetime day, seeing the moonscape of the Challenger Deep and then comparing notes with my colleagues on the ISS about our remarkable reusable inner-space outer-spacecraft," Dr. Sullivan said in a statement.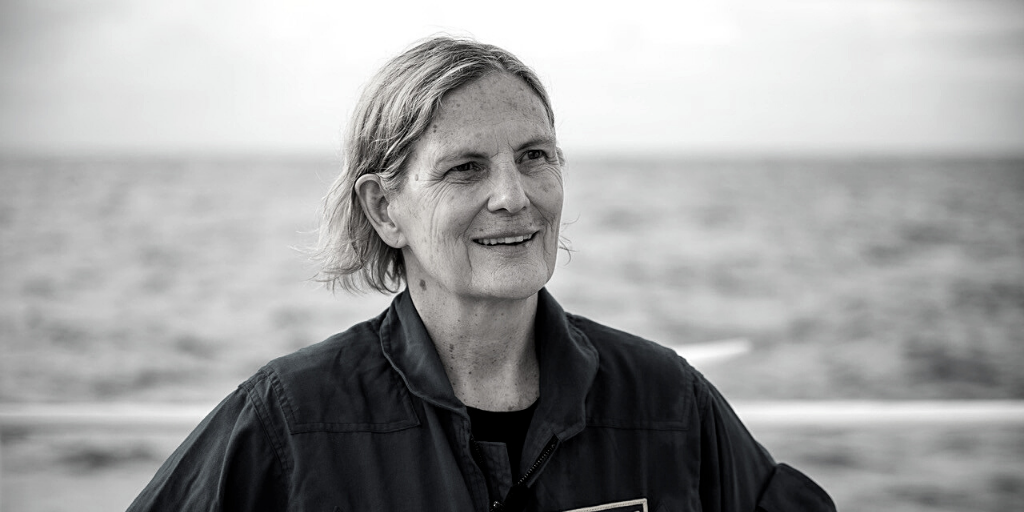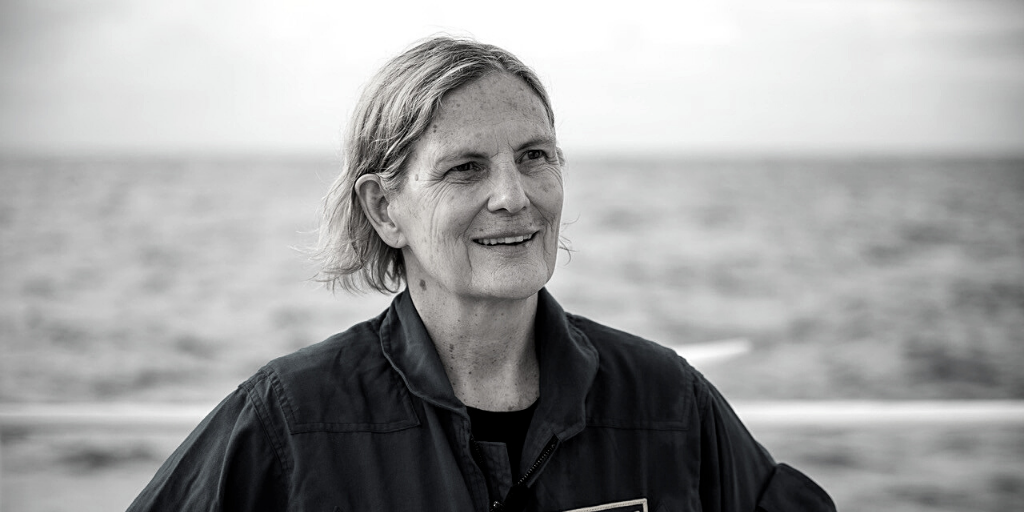 Photo: EYOS Expeditions
Charcoal vs gas: Which is better for BBQs? The debate over which fuel is best can take on almost tribal dimensions, fraught with foodie orthodoxy. In truth, both camps have their good points, and choosing between them is mostly about deciding what barbecuing means to you. Spectator Life
SE INSIGHTS
Five reasons Jacksonville makes sense for Team Trump and the Republican National Convention: Election 2020 insights from John Stineman, Strategic Elements' founder and chief strategist.
There is no Electoral College path for Trump without winning Florida
Duval County is a must-win county for any statewide Republican candidat
Florida is the embodiment of the 2020 Republican Party
Waking up in Florida following the acceptance speech will allow the Trump campaign to hit the ground running
Florida offers a two-fer when it comes to campaign impact.
Click here to read the full post.
DATA POINTS
Fortune survey: 62% of CEOs plan policy changes in response to current calls for racial justice
Diners miss community and ambiance: 2 in 5 consumers said one of the things they miss most about dining out is the social experience, and 19 percent mentioned ambiance or atmosphere, according to Morning Consult.
Japan was once again named the country with the world's most powerful passport by the Henley Passport Index. Japanese passport holders now have visa-free access or visa-on-arrival access to an impressive 191 countries.
Ford sold almost 900,000 F-Series pickups last year, generating about $42 billion in revenue.
One-fifth of Earth's ocean floor is now mapped: When the Nippon Foundation-GEBCO Seabed 2030 Project was launched in 2017, only 6% of the global ocean bottom had been surveyed to what might be called modern standards. That number now stands at 19%, up from 15% in just the last year.
The number of public charging points for electric vehicles jumped by 60% in 2019. The International Energy Agency says 89% of the world's 7.3 million charging points are still private slow-chargers at homes and businesses.
Ethiopia is working on planting five billion trees this year, part of an ambitious plan to plant 20 billion seedlings by 2024 to help build a green climate-resistant economy.
TWEET
Which snowflake caused the avalanche?
Barry Ritholtz is co-founder, chairman, and chief investment officer of Ritholtz Wealth Management LLC as well as the host of the Masters in Business podcast.
Have a great weekend. See you next week.
Strategic Elements