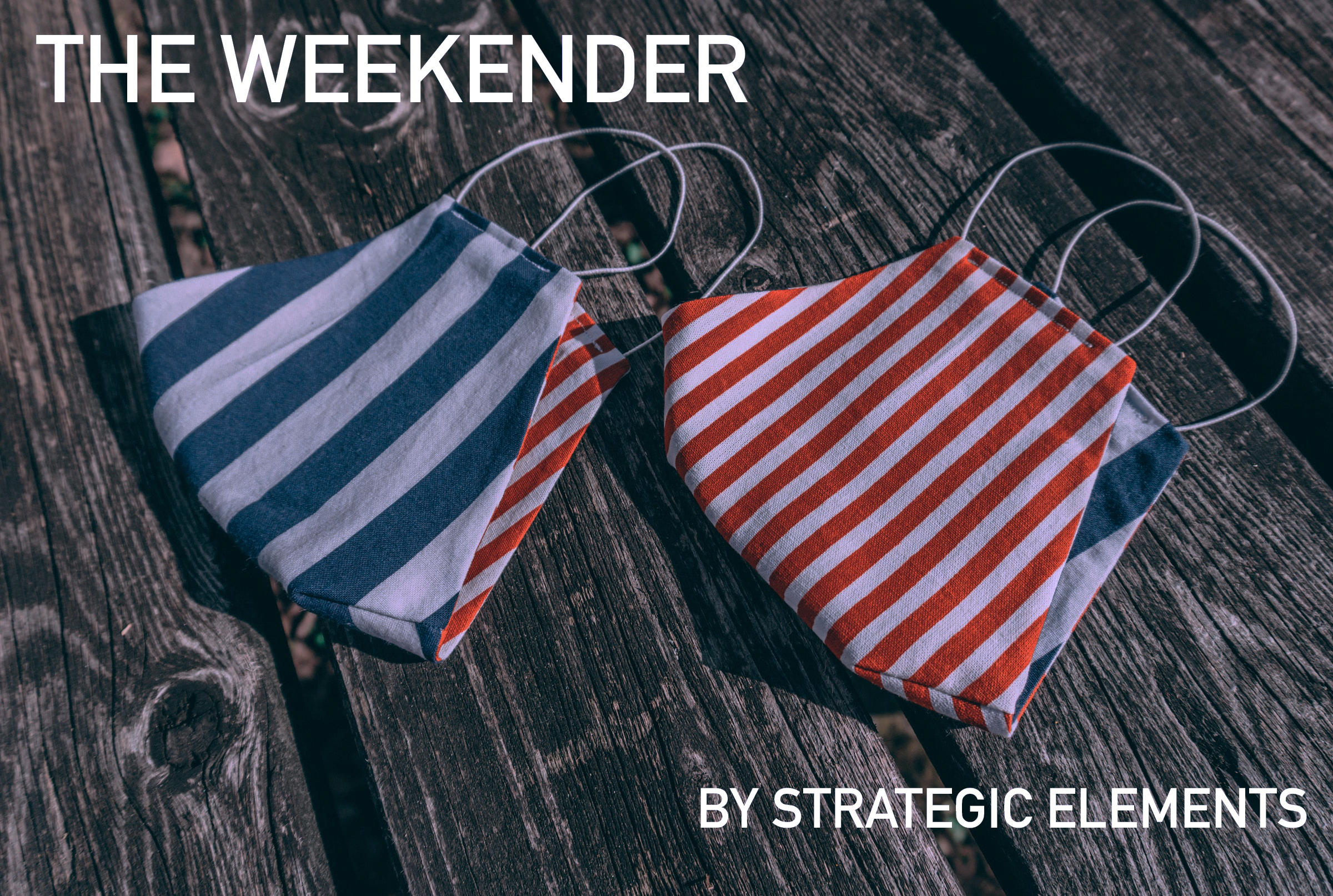 THE WEEKENDER
Subscribe today
Big reads and big ideas shaping public policy, consumer trends, and cultural innovation.
July 3, 2020
Curation and commentary from the Team @ Strategic Elements
THE BIG FIVE
Happy 4th of July to a non-traveling America – No vacation from coronavirus: It's been a rough siege, with many Americans cooped up since winter. As Arnold Schwarzenegger says at the end of Terminator Two, "I need a vacation!" But there's no vacation from coronavirus. In many parts of the U.S., COVID-19 is surging, and local, state and national governments are restricting or discouraging travel. Some marketers are putting a friendly face on it, such as offering a three-day "virtual tour" of Miami and the chance to enjoy London from your living room. Forbes
The American Hotel Association (AHLA) says that as we enter the 4th of July weekend, among the top 25 travel markets, only Norfolk/Virginia Beach has eclipsed 50 percent occupancy. National hotel occupancy hit 43.9% in June, far below the 74.5% occupancy rate of June 2019. But even 44% looks good compared to April, when hotel occupancy dropped to just 24.5 percent nationwide, the lowest rate for any month on record in the U.S.
The long-term model of office working continues to evolve: A new survey epitomizes the evolving model of office working – and gives a snapshot into the mindset of early-stage startups. 63% of those surveyed would only re-open in either 1-3 months or 3-6 months — even if the government advises that it is safe to do so before then. But the majority of those surveyed also said they would now move to a flexible remote working model (including permanent or temporary office options), and only a small number plan to return to "normal." The survey was compiled by Founders Forum. TechCrunch
Founders Forum's Brent Hoberman, who initiated the study, commented on the results: "The results prove both that early-stage tech founders are adaptable and that entrepreneurship is one of the best-suited professions to remote work. The majority of early-stage founders haven't seen productivity take a hit during this period, but it remains to be seen what happens to creative output, team culture and training over the longer term. Furthermore, there are clearly opportunities for new types of even more flexible shared social workspaces with a vast majority of those surveyed still seeing value in face-to-face interaction."
U.S. advertising market down, but the political ad market keeps rising: If you neglected political advertising, you'd find 2020 advertising forecasts predicting large declines of up to 13 percent. But political advertising is softening that reduction and in several cases is on the rise, including in red states where President Trump is now playing defense. The Trump campaign spent $14 million in June in seven states that Trump won in 2016, and has now reserved $69 million in television ads beginning in September through Election Day in Arizona, Florida, Ohio, North Carolina, Pennsylvania and Wisconsin. CNN
The new ad purchases reflect how the 2020 political landscape has shifted in ways that have narrowed Trump's path to a second term. While both parties expected to battle over the three crucial blue states that flipped to the GOP in 2016 — Michigan, Pennsylvania and Wisconsin — Trump is having to play defense in states that are crucial to his reelection, including Arizona and North Carolina.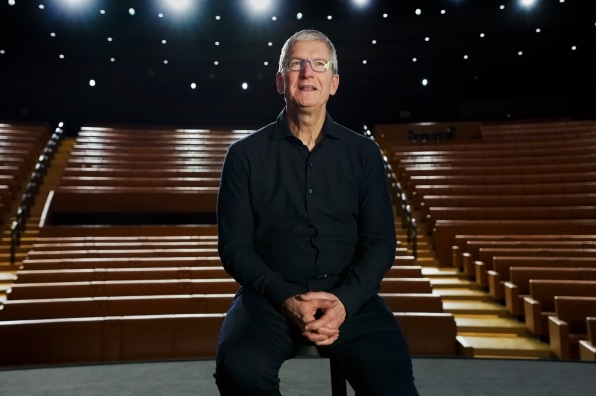 Photo Source: Apple
Apple's WWDC a compelling proof of concept for the future of virtual events: Apple's worldwide developers conference attracts significant attention each year among both business and tech, which is why the first WWDC during COVID-19 was truly under the microscope – and delivered a compelling look into the feasibility of virtual events and their ability to feel more inclusive. Fast Company
I expected this year's WWDC to be a bunch of demos filmed in advance in some dark studio or in the depths of the Steve Jobs Theater. But though Tim Cook's opening remarks were shot in the theater, much of the presentation was shot upstairs in the lobby, with the vegetation of the Apple Park campus visible through the large windows surrounding the space. Other presentations took place in the bright, round space on the lower level just outside the theater, which is made of white stone, beautifully lit from above. This put Apple and its speakers in front of a familiar background that expresses its brand and attitude better, perhaps, than any other. It made the keynote feel like an airy, outside experience, even as most of us have been trapped inside for the past few months.
A national mask mandate could be worth…up to $1 trillion? Goldman Sachs decided to do the math on the potential impact – or GDP savings – that a national facemask mandate could have on the economy. You can see the domino effect: implement a mask mandate, reduce infections and overall cases, and therefore allow businesses to be able to remain open. While the results of the nation's reopening experiment continue to be fluid, the analysis believes such a policy would prevent a 5% knock to the country's GDP. Forbes"If a face mask mandate meaningfully lowers coronavirus infections, it could be valuable not only from a public health perspective but also from an economic perspective because it could substitute for renewed lockdowns that would otherwise hit GDP," the researchers wrote.
DATA POINTS
COVID-19 and wage cuts: A CNBC/Change Research battleground States of Play Poll found that a stunning 48% of voters in battleground states and nationally report having lost wages in their household as a result of COVID-19, and almost 80% are still experiencing those wage cuts.
The state of the House since Trump: When President Trump took office in January 2017, there were 241 Republicans in the House. As of this week's primaries, nearly half (115, or 48%) have either retired, resigned, been defeated or are retiring this year.
New BLS numbers showed a record 4.8 million jobs were created in June, lowering the unemployment rate to 11.1% – smashing expectations but also raising questions about the recent rollbacks in regions now hit by a resurgence in coronavirus cases.
The Biden campaign and affiliated committees raised $141 million in June, while the Trump campaign and Republican affiliated committees raised $131 million – marking the second month in a row that Biden has outraised Trump.
YouTube TV announced a sharp increase in its subscription price, raising its online service from $50 per month to $65 per month, reflecting the continued challenges of TV and begging the question if the cord has truly been "cut."
The U.S. reported more than 50,000 new daily coronavirus cases this week, the first time it has eclipsed the mark.
Microsoft has launched an initiative to help 25 million people worldwide acquire the digital skills needed in a COVID-19 economy, combining resources from LinkedIn and GitHub.
TWEET
Ad employment is growing again. U.S. advertising, public relations and related services employment rose by 5,000 jobs in June, per #BLS #jobs report, the first increase since employment began falling in March amid the COVID-19 pandemic.
@bradage
Bradley Johnson is the director of data analytics for Ad Age.
Have a great weekend. See you next week.
Strategic Elements