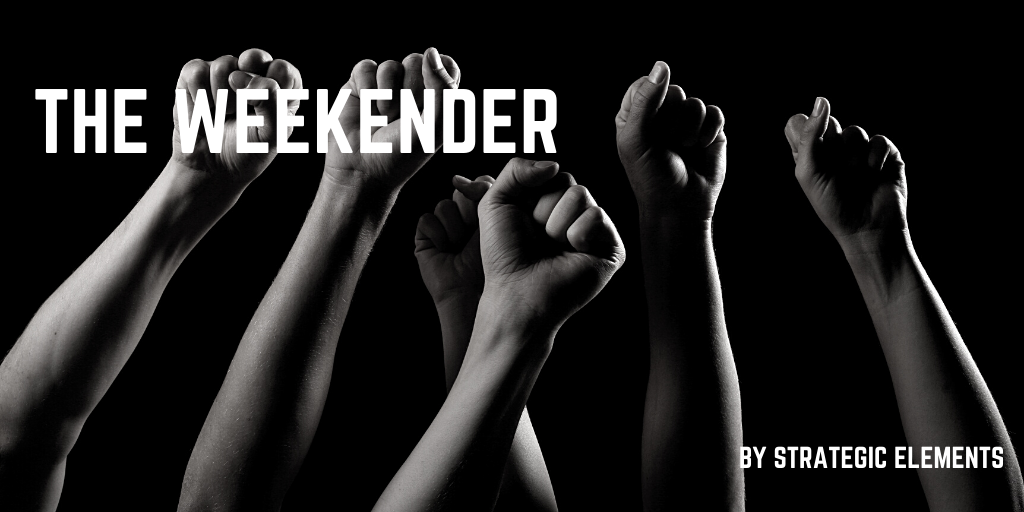 THE WEEKENDER
Subscribe today
Big reads and big ideas shaping public policy, consumer trends, and cultural innovation.
June 5, 2020
Curation and commentary from the Team @ Strategic Elements
THE BIG FIVE
Don't understand the protests? What you're seeing is people pushed to the edge. The black community is used to the institutional racism inherent in education, the justice system, and jobs. And even though we do all the conventional things to raise public and political awareness — write articulate and insightful pieces in the Atlantic, explain the continued devastation on CNN, support candidates who promise change — the needle hardly budges. Kareem Abdul-Jabbar – Los Angeles Times Op-ed

"What I want to see is not a rush to judgment, but a rush to justice."
The US unemployment rate fell in May to 13.3%, signaling a move from recession to recovery: The unemployment rate dropped from 14.7% in April to 13.3% in May. It's a surprising drop; many were expecting it to surge to Great Depression levels in May. And it signals a recovering job market. Economists were expecting today's number to show an unemployment rate of 19.5%, according to a Bloomberg consensus estimate. Moody's Analytics chief economist Mark Zandi told Fortune on Wednesday that recent economic data point to the recession having ended in the month of May, and that we've moved the recovery phase. He expects the jobless rate to drop again in June. "I think the recession is over. The recession ended in May, and in June we'll see job growth," Zandi said. Fortune
Much of the gain came from those classified as temporary layoffs due to the coronavirus-related economic shutdown.
Leisure and hospitality represented almost half the jobs gained.
Radical candor — the surprising secret to being a good boss: The single most important thing a boss can do, Kim Scott, co-founder of Candor, Inc., has learned, is focus on guidance: giving it, receiving it, and encouraging it. Guidance, which is fundamentally just praise and criticism, is usually called "feedback," but feedback is screechy and makes us want to put our hands over our ears. Guidance is something most of us long for. First Round Review
"It sounds so simple to say that bosses need to tell employees when they're screwing up. But it very rarely happens."
How TikTok is taking lessons from the record industry in building a media business: While talent is the driving force behind media companies, they make money from content and distribution. TikTok's focus on monetizing individual creators is a new concept. Music publicists like Kate Marlys, owner of Philly PR Girl, see similarities in the way artists and record labels work together to grow both their businesses and image in tandem with the reciprocity that's developing between artists and TikTok. The app's feature to let any user upload original sounds to their posts has made it a valuable resource for big and small artists looking to get bigger. Indeed, Marlys is in discussions with TikTok now on behalf of an up and coming musician who wants to get his songs on TikTok videos ahead of his album launch later this month. Digiday
The real history of America's most authentic fake brand: A mogul from Texas is using the country's least aspirational city as the backdrop for his next global lifestyle company. Shinola, the $225 million experiment in manufactured authenticity. Inc.
"…by hatching the brand in Detroit–a city emblematic of American hardship, resilience, and craftsmanship–the brand is selling more than watches; it's selling a comeback. Every time customers in Neiman Marcus or Saks purchase one of the brand's $850 watches or $300 leather iPad cases, they too can feel like they're doing their part in Detroit's fight for survival."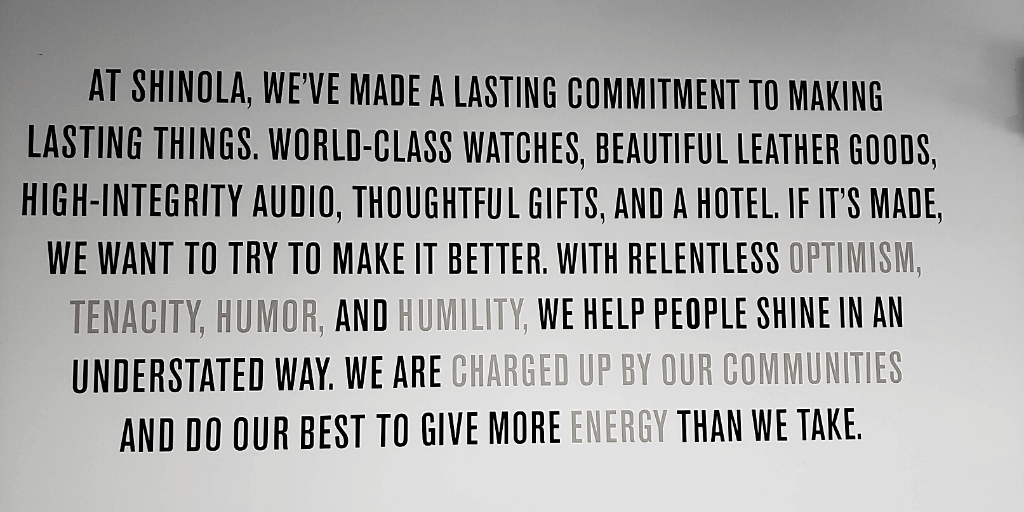 The mission statement at Shinola's production facility in Detroit.
SE IN THE NEWS
"This is a progression, not an instance," said Iowa Republican strategist Jon Stineman. "But him being stripped of his committees provided the opening here, the window."
Associated Press
:
Iowa Rep. King's defeat marks moment of unity for GOP, Dems
"The fact that 64% of Republicans in the most conservative district in the state chose to vote for someone other than King speaks volumes about the whipsaw that hit him between his lack of effectiveness and his controversial comments." — Iowa-based political strategist John Stineman
Melissa Langsam Braunstein – Washington Examiner Op-ed: Iowa's King is dethroned
DATA POINTS
KFC, the company that built its reputation on a "secret" chicken recipe with 11 herbs and spices, only follows six guys named Herb and all five Spice Girls on Twitter.
Of the 602 job vacancies at TikTok, nearly 10% (55 of the roles) are focused on talent management, per LinkedIn.
Zoom reports 169% jump in revenue on new paying customers.
In an ongoing survey of more than 800 schools in The Chronicle of Higher Education, two-thirds said at the end of May that they were planning for an in-person semester in the fall.
Electric vehicle sales are forecast to fall to 932,000 this year, down 14% from 2019, according to BloombergNEF.
Americans saved 33.0% of their after-tax income in April, up from 12.7% in March.
Being CMO is not a long-term gig: The average tenure of people in top executive roles including chief marketing officers at 100 of the top advertising spenders in the country dropped to about 41 months last year, down from about 43 months in 2018, according to new research from executive search firm Spencer Stuart.
TWEET

Answers to organizational problems or opportunities don't just organically spring from algorithms—they need communicators to translate the information into compelling stories.
@nancyduarte
Nancy Duarte is a writer, speaker, and CEO. Duarte is the author of several books, including Slide:ology: The Art and Science of Creating Great Presentations and Resonate: Present Visual Stories that Transform Audiences.
Have a great weekend. See you next week.
Strategic Elements